Global Visiting Scholars and Specialists Program (GVSS) - How to Apply
at Fairleigh Dickinson University
How to Apply?
STEP ONE:
G-MEO will review applications for the Visiting Scholars and Specialists program and will recommend candidates to FDU. Complete applications shall include the following:
An application form to the GVSS Program
Brief Statement of Purpose
Educational background
Professional Background
Evidence of English Proficiency
Valid Passport
STEP TWO:
G-MEO will conduct personal interviews with candidates to ensure that all participants have the necessary qualifications and demonstrable English skills in order to participate in the program and to function on a day-to-day basis.
STEP THREE:
After concluding its internal processes, GMEO will forward the application and associated information of each candidate to FDU. FDU will review the recommendations and will issue a formal letter of invitation to successful candidates.
Visas and Insurance
Successful candidates will be issued a DS-2019 enabling them to obtain a J-1 visa and a J-2 visa for each of his/her dependent. FDU reserves the right to determine the final eligibility of each candidate recommended by G-MEO. FDU retains sole decision-making authority regarding its selection of Visiting Scholars and Specialists, in accordance with U.S. and New Jersey State laws and FDU's policies.
All participants must have medical insurance coverage while participating in the program in the U.S. Any medical costs not covered by their insurance policy must be paid by the participant.
LEARN MORE ABOUT G-MEO
G-MEO FOUNDER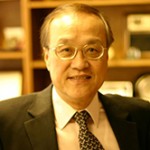 Dr. David C. Chang was named the ninth President of New York Polytechnic University (now known as NYU Tandon School of Engineering) on July 1, 1994, and was appointed Chancellor in July 2005. In addition to being a full professor at his home institution, Dr. Chang also holds honorary professorships at five major universities in China.
Contact G-MEO
NY Office Phone: 646-216-2186
Email: info@g-meo.com
Address: 260 Madison Ave. Suite 8046
New York, NY 10016
Chengdu American Center Phone: 

+86 (028) 8550 2761

Address: No.17, Section 13, Ren Min South Road, Chengdu, China 610044
(Search on Baidu Maps, or search Chengdu American Center directly on Google Maps due to Google search restriction in China)