DR. DAVID CHANG
Chairman of the Board of Directors and Chief Executive Officer
Dr. David C. Chang was named the ninth President of Polytechnic University, now known as Polytechnic Institute of NYU on July 1, 1994, and was appointed Chancellor in July 2005. In addition to being a full professor at his home institution, Dr. Chang also holds honorary professorships at five major universities in China.
Previously Dr. Chang was Dean of the College of Engineering and Applied Science at Arizona State University and Chairman of Department of Electrical and Computer Engineering from 1981 to 1989 at the University of Colorado. Dr. Chang holds a Master's and Ph.D. in applied physics from Harvard University and a Bachelor's degree in electrical engineering from National Cheng-Kung University in Taiwan. He was elected a Fellow of the Institute of Electrical and Electronics Engineers (IEEE) in 1985, is a past President of the IEEE Antennas and Propagation Society, and Chairman of the U.S. National Committee of the International Scientific Radio Union.
Dr. Chang has a distinguished record of academic achievements in electromagnetic theory, antennas analysis, microwave & optical integrated circuit. He was awarded the IEEE Third Millennium Medal in 2000. He co-founded in 2009 the Joint Institute for Innovation & Entrepreneurship in 2009 between Nanjing University and Polytechnic and served as chair of its governing board, 2009-2011.
Apart from his academic activities, Dr. Chang has actively involved in a number of civic and not-for-profit organizations including serving on the Commission on Independent Colleges & Universities (CICU), a member of Mayor Michael Bloomberg's Transition Team and Mayor's Committee on Appointments. He was appointed by Mayor Bloomberg to serve on the Panel for Educational Policies, which is the governing board for New York City's school system, and has served in 2009-10 as its chairman. Dr. Chang is a member of the Council on Foreign Relations; was on the National Advisory Council for the Bill & Melinda Gates Millennium Scholars, 2001-2010, and is a member of The Committee of 100, a Chinese American organization dedicated to better Sino-American relations and is currently serving as a co-chair for its international programs.
Dr. Chang is a board director of two public companies, i.e. American XTAL Technology and Time Warner Cable.
He co-founded in 2011 g-MEO and has been serving as its Chairman of the Board of Directors and Chief Executive Officer.
DR. SHERRY SUN
Board Director
Dr. Sherry Sun has a combination of 25 years of industrial and academic experience, across financial services, consulting, software/IT, and the higher education industries in the US and China. After 15 years of US corporate practice, Sherry returned to her favorite educational industry in 2008. As an Adjunct Professor at Peking University and a Senior Fellow at Fudan University in China, she has designed and lectured in executive programs for Chinese bankers and corporate leaders and advised students' research. She is also designated lecture professor for MBA/EDP programs at several Chinese universities. From 2003 to 2008, Dr. Sun worked as Vice President of Risk Management at Citi Card, Citigroup in New York, to lead the credit policy group to manage North American E-Business Credit Card underwriting policy and a co-brand portfolio. Prior to that, she served three years as Vice President of Decision Science at JPMorgan Chase, to manage major credit card marketing channels with analytical strategies. Before that, she held technical head and executive positions at consulting and software companies in the Greater Washington DC area. In late 1990, as a co-founder and Vice President of Wintechi Inc., Dr. Sun worked on fund raising and "Multiversity" projects.
As a scholar in Management Science and a practitioner in the banking industry, Dr. Sun has authored 40+ publications and spoken at over 40 conferences and forums, and served as an Overseas Senior Adviser and Column Author for Chinese financial magazines since early 2000s. Sherry has received numerous awards, including Citigroup Global Talent Development Program; Citi Stars; Chase Service Stars; Asia Leadership Award from Bergen Community College; Outstanding Teaching-Research Award from China Management Modernization Association.
Dr. Sun has also served non-profits and on their boards. She is one of the founders and served as Executive Director of the Chinese American Bankers Association (CABA) since 2002. She was a founding member of the Chinese Association of Science and Business (CASB) in NY and the Washington Chinese Professional Forum (WCPF) in Washington, DC. Sherry is an active member of the International Association of Finance Engineering (IAFE), Professional Risk Management of International Association (PRMIA), the Institute for Operations Research and Management Science (INFORMS), the Asian Financial Society (AFS), and the Chinese Economist Society (CES).
Sherry received her M.S. and Ph.D. in Management Science from University of Maryland, where she was honored with the Paine Doctoral Award for Academic Achievement. Sherry also earned her M.S. Certificate and B.S. in Physics from Yunnan University and Nankai University in China, respectively.
Dr. Sun previously served as G-MEO's Chief Operating Officer and President of Greater China Operations 2012-2021, where she played a key role in driving the initial strategy and launch of the company.
DR. MINGZHENG SHI
Senior Advisor
Dr. Mingzheng Shi is currently Director of Bing Overseas Studies Program in Beijing, Stanford University. An alumnus of Peking University, Dr. Shi received his Ph.D. with Distinction, in Chinese History from Columbia University in 1993. He built a successful academic career at U.S. institutions including the University of Houston and University of Hawaii, Manoa, before returning to mainland China in 2000. He has held leadership positions as Associate Vice-President for Mainland China Affairs, City University of Hong Kong; as Associate Dean and Executive Director, Duke Kunshan University; as Founding Director of New York University Shanghai; as General Manager Niu Da Educational Consulting Co., Ltd.; and as Resident Director, Council on International Educational Exchange (CIEE) in Shanghai.
CECILIA M. CHANG
Director, External Relations
Cecilia Chang started her career in the US as a public school teacher in the Boulder Valley School District in Colorado for over twenty years, specializing in teaching gifted and talented students in primary grades. She has received numerous recognitions, including being nominated for the Westinghouse Best Teacher's Award in 1992. Cecilia took early retirement and came to New York when her husband David assumed the Presidency at Polytechnic University in Brooklyn, NY in 1994. She was active in school, community and international University affairs. She received an award from CTUAAA, the North American Alumni Association for all five Jiao Tong Universities in 2005 for her dedication and contributions. She served for many years as Director for International Development at Polytechnic and later on the Promise Fund Board. The latter was dedicated to raise scholarships for economically disadvantaged college-age students, raising an average of over one million dollars annually. She was instrumental in raising over $750,000 initially to establish the Joint Institute for Innovation & Entrepreneurship in 2009 between Nanjing University and Polytechnic Institute of New York University, followed by securing the pledge of $1M in scholarship funds to support students from both universities to work on collaborative projects in Nanjing.
Cecilia received her Bachelor of Arts degree in History from National Taiwan University in Taipei and her M.Ed. in Child Study from Eliot Pearson School at Tufts University, Medford, MA.
She is currently Director, External Relations at g-MEO.
DR. JAY F. McKEAGE
Senior Vice President
Jonathan (Jay) McKeage has over 35 years of experience in the areas of business and finance. In addition to his current position at G-MEO, he is a Director of Goldenstone Acquisition Limited, a special purpose acquisition company. He is also a Director of Herr Gallery, a New York Chinatown art gallery focused on providing young artists seeking to mint their NFT work on the blockchain with advice and support in the development and management of their creations.
Since 2012, Mr. McKeage has been involved in education services as a corporate executive, teacher, and consultant. He served as a Senior Advisor in strategic planning and finance at G-MEO during its start-up years, 2012–2015. Beginning in 2015 he served as Managing Director, CEO, Director and Senior Advisor for American Education Center, Inc., a New York based, OTC-quoted provider education services to Chinese students studying in the US and their families. During this time, he also taught online courses in Equity Analysis, Personal Investing, US Capital Markets, M&A, and the Global Investment Banking Industry.
Mr. McKeage's executive experience includes his role as Vice President of Corporate Development for NASDAQ-quoted Digital Angel Corporation (2004-2010), where he managed M&A and served as in-house investor relations manager for this international RFID and GPS technology group. During this time, he also served as CEO and Director of Digital Angel subsidiary InfoTech USA, an OTC-quoted provider of information technology and consulting services where he led a business model restructuring and eventual sale to a private equity group.
Mr. McKeage's investment banking experience includes seven years (1995-2002) as Managing Director in the Corporate Finance department of New York based Dominick & Dominick LLC. Before this, for two years he was an Account Manager with Allen & Caron, a New York and London based investor relations firm. Prior to that, he spent three years with Kalb Voorhis, a brokerage and specialist operation, and two years with Niederhoffer Investments, a commodities focused hedge fund.
In the 1980s Mr. McKeage was an Associate with Morgan Grenfell Inc., the New York office of the British merchant bank. Prior to that, he began his investment banking career in the Municipal Finance division of PaineWebber, structuring tax-exempt municipal bonds.
Mr. McKeage holds a BA degree from Rice University, MA, and Ph.D. degrees from Harvard University and a Certificate in Business Administration from The Wharton School.
SHAWN HU
Program Director for Chinese International Students Recruiting
Shawn has rich experience in the summer program. He received his undergraduate degree in 2016 and started to work in this industry. Before joining G-MEO, he was the director of the marketing department for nearly 5 years in one of the famous summer program companies. And as the program manager in another summer program company for one year. He is familiar with the process and knows how to design the system. Especially the relationship with students and the promotion work, he has his own skills and ideas. He has already dedicated himself to education.
ILYANNA KELLER
Program Manager
Ilyanna received her master's degree in Higher Education with a concentration in International Education from Old Dominion University. llyana has spent a lot of time traveling throughout the United States and Europe. During her undergraduate program, she studied abroad for a semester in Florence, Italy and for spring break in Greece. Ilyanna is passionate about experiencing other cultures and is eager to encourage others to pursue learning through cultural exchange. Ilyanna also manages our New York Office.
CHRIS (YIBO) WANG
Summer Program Coordinator
Yibo received his business degree at Pace University in New York City, with a focus on International Business Management. Before joining G-MEO, he had full-time experience in marketing analysis and strategy adjustments. Born and raised in China, Yibo has been to more than 13 countries and participated in 3 study abroad programs. He loves to travel and share cultural differences, which is why he is eager to join G-MEO to encourage and help more students to have experiences in cultural exchange and studying abroad.
DANICA SUN
Digital Marketing Coordinator
Danica is a master graduate from City University of Hong Kong, majored in International studies. With her personal experience as an international student in UK and Hong Kong, she has devoted herself in education field. After graduation, she has years of experience in marketing and business development, particularly focusing on study abroad relevant programs.
Xiao Lang Lv
Recruiter
Xiaolang(Gary) Lv, has been working in the industry of summer school programs for 7 years. He has been engaged in sales, marketing, new media, academic departments in the past. Gary is very familiar with the course requirements of Chinese international students and also the transfer credit policies of many universities in US and Canada. He is good at helping students in their study and daily life and keep good relationship, so that he would become friends with students instead of just teachers and students.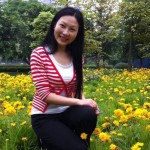 SARA (SHENGLIAN) LUO
Director, Chengdu American Center
Shenglian Luo earned an MA degree in English in the year of 2008, after 7 years' study at Sichuan Normal University, China. Ms. Luo previously worked as a teacher in English at Sichuan Tianyi College, where she accumulated much teaching experience as well as teaching skills. Ms Luo also got a certificate of II degree in National Written Translation (From English to Chinese & Chinese to English) Test in China. Besides, she had also learned Japanese as a foreign language for several years.
Prior to joining g-MEO, Shenglian Luo was an internal trainer and has been working as a sales trainer for 6 years. She was mainly responsible for training all internal sales persons as well as sales manager in SHARP. In SHARP, she also taught some Japanese Chinese. This experience also aroused her enthusiasm for intercultural study, encouraging her to pursue a career devoted to international education.
LILY HUANG
Program Coordinator, Chengdu American Center for Study Abroad
Lily Huang earned her MA in literature in the year of 2017 from Sichuan University. Majoring in Modern Foreign Language Education and Educational Technology, Lily has a high-level of English proficiency and rich teaching experience.
Having been an intern at G-MEO Chengdu American Center in the year 2015 and summer 2017, Lily now works as a program assistant who is mainly in charge of student life coordination, internship and academic affairs, and social media etc.
SHERYL WANG
Program Assistant, Chengdu American Center for Study Abroad
Sheryl graduated from Sichuan University with a degree of Master of Literature in English Language and Literature. She double-majored in Finance and Business Administration at Southwestern University of Finance and Economics and received bachelor degrees in Economics and Management.
Sheryl is a skilled and certified Chinese-English and English-Chinese translator. She used to be an English teacher. She also worked as a volunteer Chinese teacher in the United States and South Africa. She was an intern at the Chengdu Center from February 2016 to July 2017. She returned to g-MEO full time to devote herself to helping students studying abroad in China.
CHUANJING TAO
Graphic Designer, Chengdu American Center for Study Abroad
Chuanjing Tao graduated with a degree in Visual Communication Design. Before joining G-MEO, she engaged in the education industry working as a designer. She is passionate about creating high-quality designs to help students learn about G-MEO and study abroad.