Study Abroad Q&A Session 2 - Learn More from G-MEO Alumni

Hold by G-MEO Team on April 30th. 2020 at 3 PM
In this Q&A session, we can learn from our G-MEO alumni, Rebecca and Dajah, about their experiences. They shared why they decided to study abroad in China and what their impressions of China were before studying abroad. They also shared the most interesting parts, where to travel to, and more. Are you still deciding which country or city to study abroad in? Listen to their stories...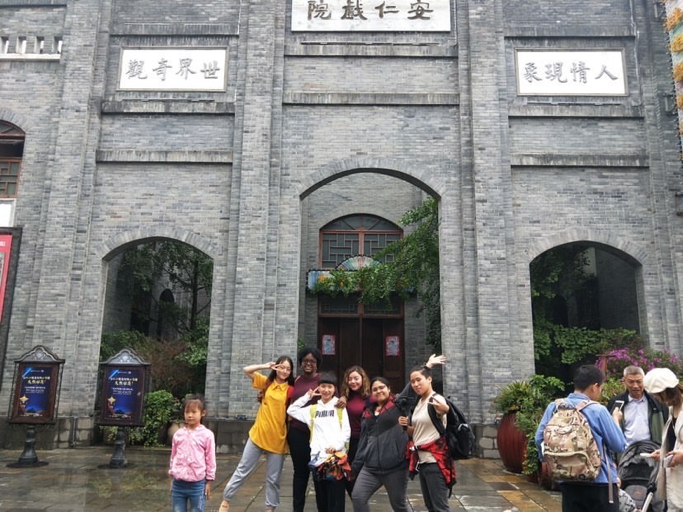 Read the Transcript of the G-MEO Study Abroad Q&A Session with Alumni
Below is a lightly edited transcript of this online interview between G-MEO, Rebecca, and Dejah. Don't miss their stories:
G-MEO: Good Afternoon Everyone, this is Fifi from G-MEO study abroad. Now, it's time to welcome our alumni Rebecca and Dejah to share their exceptional study abroad experience with us. To begin, can both of you tell us a little bit about yourself?
Rebecca: 大家好!Hello Everybody! 我叫柯湘!My name is Rebecca! I studied abroad in the Spring Semester of 2019 in Chengdu!
Dejah: Hi, my name is Dejah and I am a graduating senior from FDU. I studied abroad during the spring of 2019. I major in 3D Character Animation and minor in Graphic Design. Since studying abroad I've become a student ambassador for my campus.
Why Study Abroad in China
G-MEO: Thank you!! So, I think the first thing students will be curious about is what arouses your interest to study abroad in China?
Rebecca: I was adopted as a young baby in China and since then it always has been an interest to revisit my country of birth. I always felt like I was missing the connection to my culture and when I found the opportunity at FDU to go to Chengdu I was excited for the chance to finally go to China!
Dejah: I wanted to study abroad in China because I have always loved Asian culture. I've always loved the rich history and have always been a fan of their tv show dramas and music. So when I found out it was an option I was ready to apply.
What Was Your Impression of China before you studied abroad
G-MEO: The next thing I would like to learn more about is what is the first thing comes into your mind when you think of your time in Chengdu? What was your impression of China before you studied abroad in Chengdu?
Rebecca: The first thing that comes into my mind when I think of my time in Chengdu is the rich culture, the beautiful buildings and places to visit. Festivals and shows. The delicious food from street food to the hot pot. The memories of fun adventures I went with my friends and new friends that were made in China.
My impression of China before studying abroad was that it would be a little scary or hard to get used to with not being fluent in Chinese. I was worried about how to get around and find stores or places. I quickly learned that China is very tourist-friendly in Chengdu and I actually felt very safe wandering the city alone and finding my way!
Dejah: I was excited about going to China because I had all these ideas and aspirations of what I wanted to do. When I think back what I really love about China is the combination of traditional and modern all over. I love how patient the people were when I tried to talk to them in Chinese.
In the back of my head, I was a little worried about how the people would react to me because I look so different from them, but after arriving I had so much fun and met some amazing people.
G-MEO: Wow, that sounds pretty awesome!!! I never knew about all of these before you guys shared them with me today. I should travel with our students next time to see this wonderful city!
Traveling While Studying Abroad
G-MEO: You guys have visited several places in Chengdu, such as the panda research base, Jinli Ancient Street, Terracotta Army, and family visit. Can you share some of your experience and travel tips with us?
Rebecca: I loved visiting all of the places, it was so beautiful and amazing to see some of the iconic locations in person. To see the Terracotta in person is breathtaking and the vast amounts of stone warriors. The Jinli Ancient Street was beautiful and I loved visiting shops and trying out the snacks! Going to the panda research base was very cute and was enjoyable to see the pandas of all sizes! I personally loved the Jinli Ancient Street a lot because I really enjoyed bargaining. The most I've done whenever I got the chance was to bargain at the street shops for souvenirs!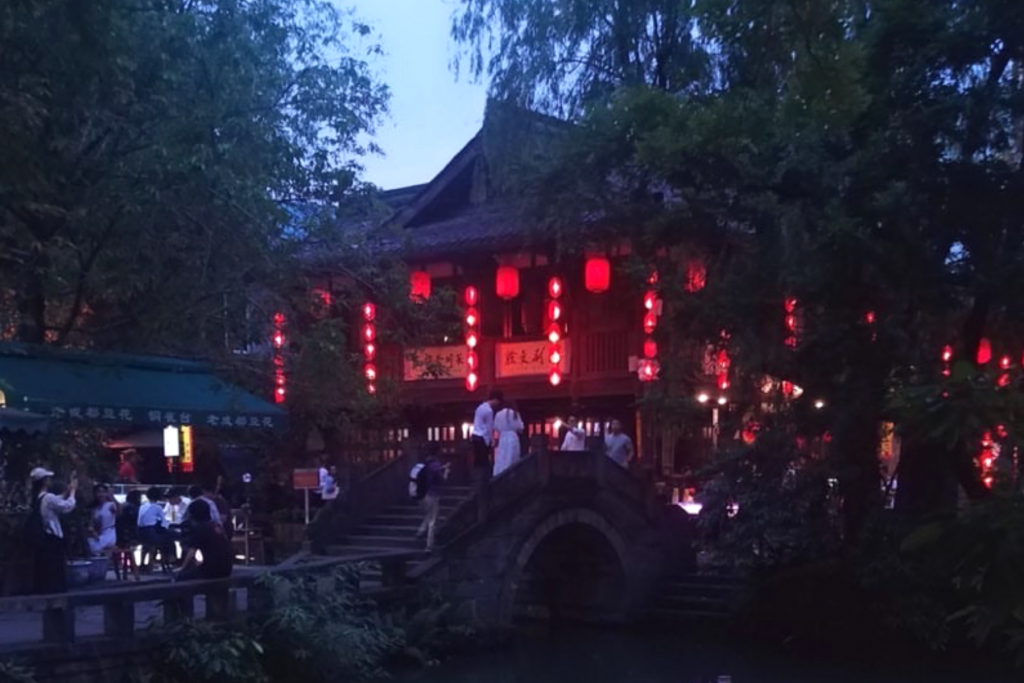 Dejah: This is a picture I took when I went to Jinli Street. It was an amazing place to eat, buy souvenirs, and just walk around. I think that is one of the things I like about China was how relaxing it was to just walk around.
Rebecca: Some Souvenirs that I passed by were so beautiful! I wish I bargained for them but I bought so many souvenirs that I couldn't afford to get these! Also, I had to keep my suitcase weight down!

Dejah: I loved seeing the pandas because they were always one of my favorite animals growing up and I remember wanting to see them in real life after watching Avatar: The Last Airbender, which was based on different Asian cultures.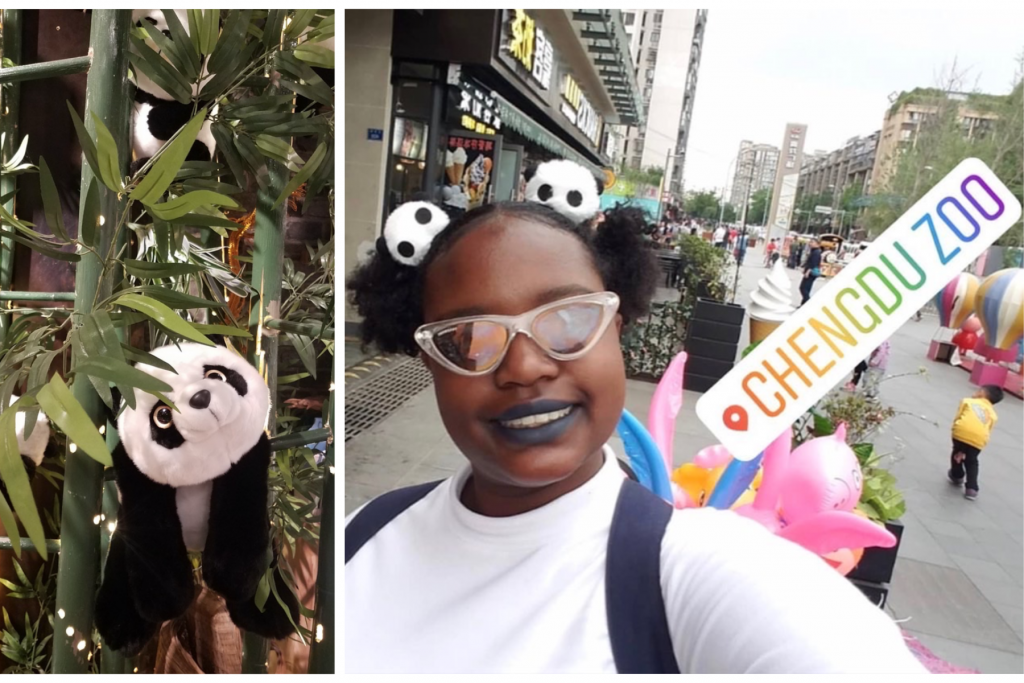 G-MEO: Very nice picture and videos! Who doesn't like pandas? I love them too!! Super cute. Did you do any travel while you were studying in China? Where did you go? (Beijing, Shanghai...)
Rebecca: I did travel a lot near the end of the study abroad semester. My parents actually came to China to join me near the end of the school semester and then for 2 weeks we traveled around China: Xi'an, Beijing, Shanghai, and lastly we visited the orphanage where I was adopted. That was an emotional day for me because on the day we went to the orphanage, the lady who found me as a baby responded and said she is able to meet. I was able to meet the lady who saved me because if she hadn't taken me to the Cadre of the village I may not be in the life I am in right now.
Rebecca: Here is a picture of the lady who found me, she lives in the village that we think my birth parents are in or nearby but we did not have luck in finding them during our brief time there.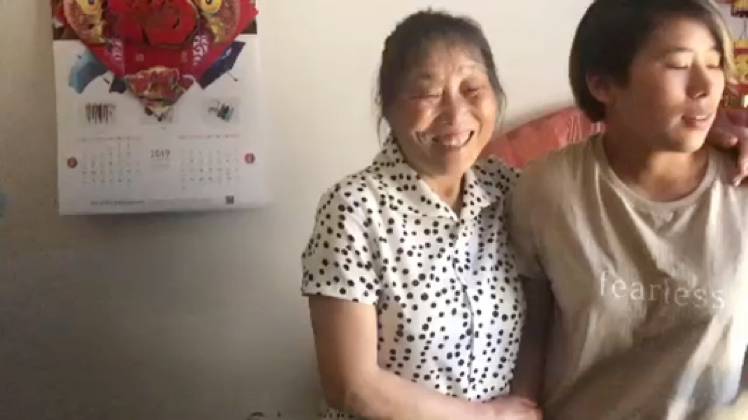 Dejah: Rebecca, Christina, and I went to Dayi during the May Day Holiday. Dayi was one of our buddies, Judy's hometown.
G-MEO: Rebecca, this really touching story makes me want to cry T_T. But I'm very happy for you and it's actually a really meaningful trip in your life!
Rebecca: Such memories and adventuresssss!!!! It really was, it felt like fate for me to have had the opportunity to go to China, visit my orphanage, and even meet the lady who saved me.
Rebecca: Those pictures make me nostalgic!
Dejah: While in Dayi we got to go to museums and temples and ate really good food.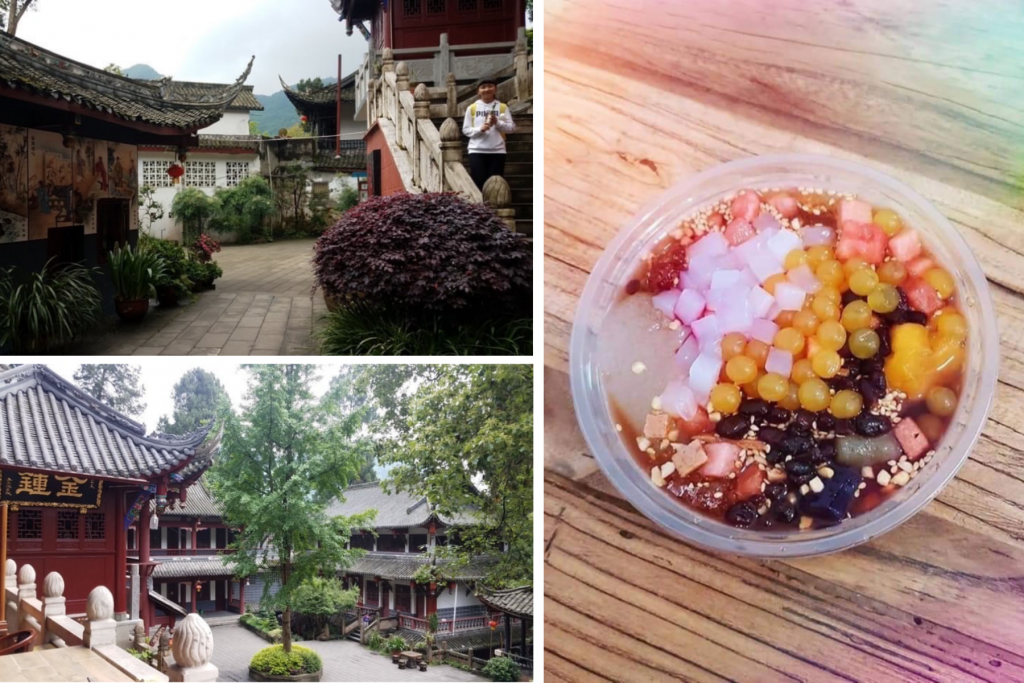 Rebecca: 我饿了!I'm hungry!
Dejah: That is one thing I miss the most is the food I cannot find anything like it back in the states
Rebecca: Exactly. I dreamed of food in China too many times.. this past few weeks I dreamed of revisiting Chengdu a few times!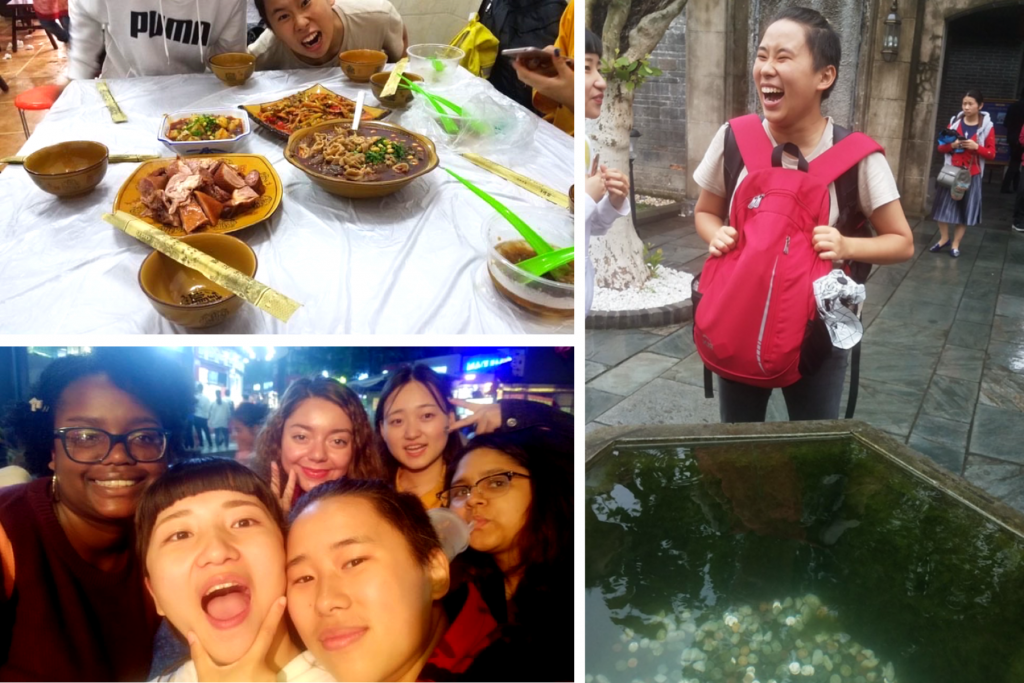 G-MEO: Haha!! Many food photos. Did you know learn to make Chinese cuisine during your time in Chengdu?
Rebecca: I did learn how to make dumplings, mostly just wrapping the dumplings up since the friends in China made the filling for us! I wish I learned how to make more authentic Chinese food. I should go ask my Nai Nai to teach me!
Dejah: I didn't learn much either, but my buddy Lawrence and jasmine gave me a list of ingredients that are in most Chinese foods for me to try at home
G-MEO: Haha, you can show us your masterpiece next time.
Dejah: Since then I recently found an Asian supermarket by our school that I can buy some of these ingredients and dishes we had.
Study Abroad Experience in China
G-MEO: This morning, I saw Dejah shared an amazing photo of her wearing traditional Chinese clothes on this day a year ago. Can you share your photo with us here, and how do you feel when wearing traditional clothes? How about Rebecca? What's the best cultural experience you had in China? (kung fu, calligraphy, Sichuan opera…) Please also share with us some photos if you have them on hand.
Dejah: Sure, while in China a student went to a photo studio and told us we could go to get professional photos taken of us in the traditional dress. I had so much fun because it's always been a dream of mine to dress in Asian clothing.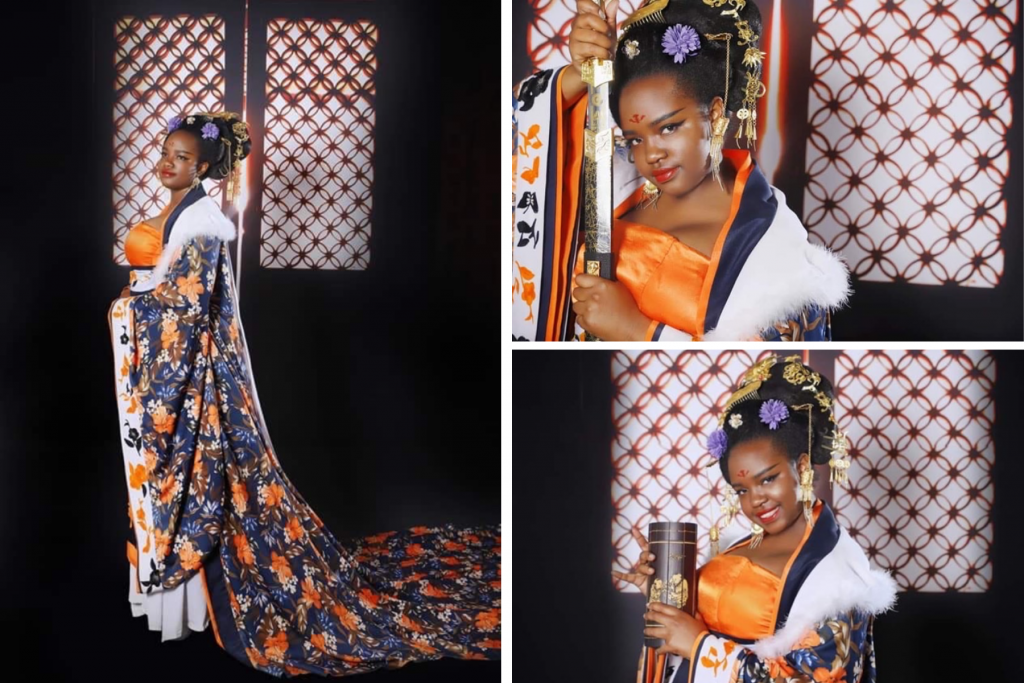 Rebecca: My best cultural experience was the food, I did see the Sichuan Opera which was beautiful but I feel like the food was huge for me. In American for Chinese New Year, we have gone to decently authentic restaurants but the food in China is so much better. I loved trying out the hotpot even though I can't handle spicy foods very well!
G-MEO: Those photos are awesome!! You look like a professional model shooting ads!
Rebecca: 你很漂亮!You are very beautiful!
Dejah: Thank you. I would love to go back and take more if I could
Rebecca: Just hire me Dejah- *gets out my camera*
G-MEO: Chinese Foodie = Rebecca. XD
Dejah: I'll hire you. What's great is that Rebecca made a video of our time in China that I watch all the time.
Rebecca: That video makes me emotional every time because it makes me relive and feel the excitement of studying abroad!
G-MEO: Yes!! Me too! Rebecca, you should share your video with us!
Rebecca: View the video HERE. This video is a great showcase of the adventures, experiences, and memories we all made together! I wish I could make more videos like that one- maybe one day if I go back!
G-MEO: Amazing Vlog. Did you experience culture shock while you were in China? What about Chinese culture do you think is different from Western culture?
Rebecca: I think my culture shock was minimal and in small moments. I would miss my friends and family a little, and miss the food in America sometimes. Overall I did not have a big culture shock because I was surrounded by amazing friends, adventures and things to do!
What I think is different from Western culture is some everyday things I notice. When sneezing, bless you is not a thing in China. When going to eat you don't wait but instead, you just walk in and sit where you want to sit and you call the person over to order usually. There are also different manners when eating as well.
Dejah: I didn't have much of a culture shock either. I enjoy trying new things so I wasn't surprised by much. The hardest thing for me was the bathroom.
G-MEO: Okay, let's go into our final question. Did anything surprise you after you went on this trip? How has your image of China changed? You can talk about lifestyle, people, or culture in China.
Rebecca: Definitely my view of America and China. I realize the major difference in lifestyle and culture and how I feel like it's really important to go study abroad to see how other cultures and countries are like. Being in America since I was adopted and then going to China really broadened my view and gain an appreciation for my life. China is beautiful and I think it's a great advantage to broaden your sight of how the world is like not just in America.
Dejah: After this trip, I am more open to others from different walks of life. When I think of friends and family I think of those I met in China because this was such a life-changing experience for me. The world is so much bigger than America and that is what studying in China taught me.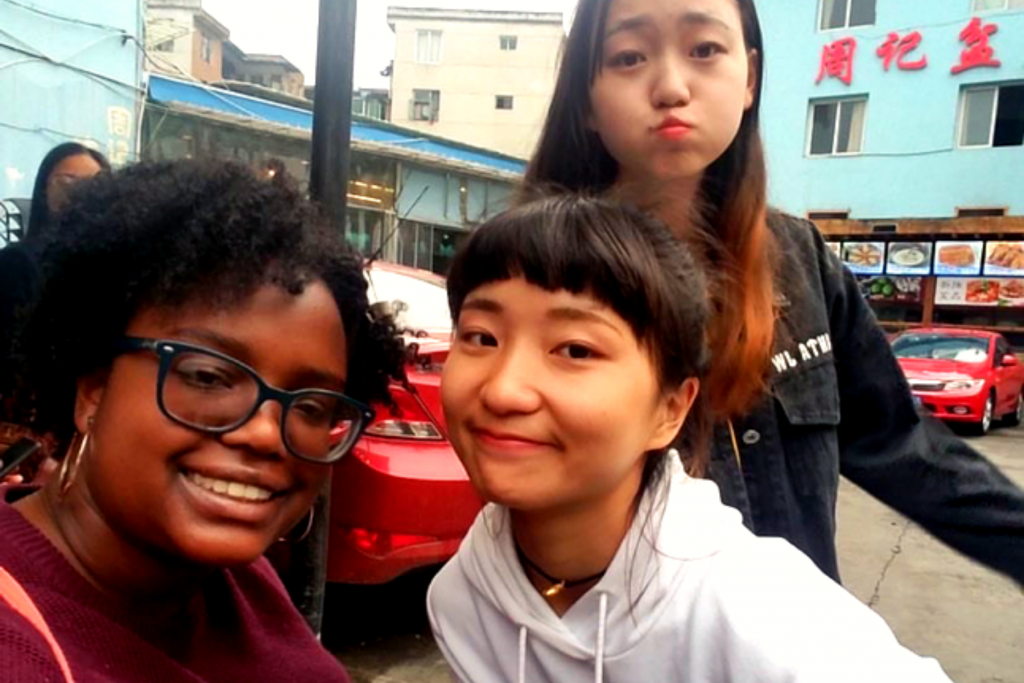 Rebecca: Dejah definitely worded it better than me. I was struggling!
G-MEO: You guys have actually grown a lot after this trip!! Our Q & A session is about to be over, do you guys have anything to add? If not, I think it's about time to say see you next time. I learned a lot today from our alumni. Thank you for sharing all your unique experiences from studying abroad with us!! I truly love both of your stories. Let's keep in touch and talk to you guys next time. Thanks again to Dejah and Rebecca. Bye Bye~~