The G-MEO Alumni Network
Since Spring 2013, over 400 students have studied in G-MEO's Study Abroad Programs in China. Through our Alumni Network you can stay connected to your fellow alumni from different U.S. universities, share your stories, and keep in touch with G-MEO. G-MEO is committed to encouraging lifelong education, international education, and cultural exchange between America and China, and assisting our alumni throughout their life and career journeys.
G-MEO Alumni Association (GAA) is established to build a network of our alumni and provide a platform to share job opportunities, information about working and studying in China/Chengdu, and other useful resources to benefit alumni with their personal and professional development.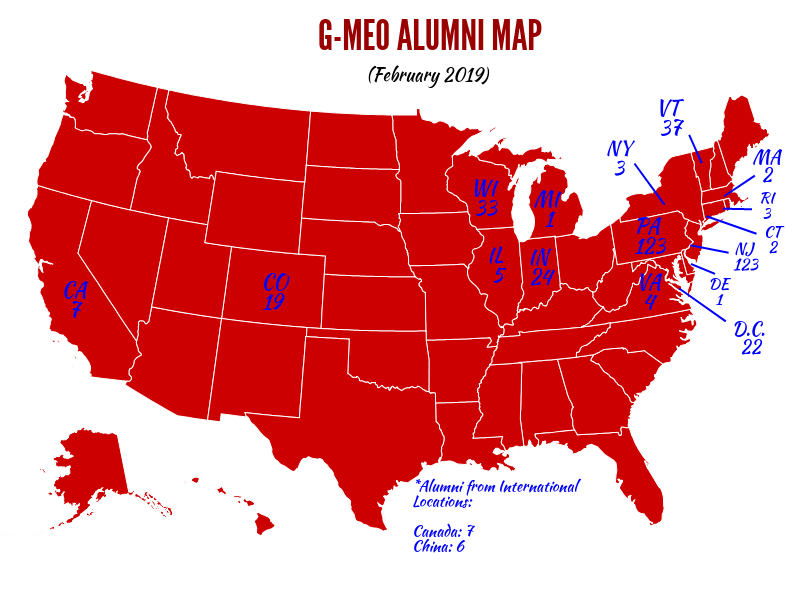 Welcome Back Class of Fall 2018!
Join us in welcoming the Fall 2018 class to our alumni family. Click the link below to read a collection of their stories about their experiences in China and their future plans.
Read Fall 2018 Alumni stories here.
Do you have a story, memory, or something else you'd like to share about your time in one of G-MEO's programs?  We'd love to hear from you and showcase your story on our website or in our alumni newsletter.
Alumnus in Spotlight
Arianna Lara Rivera (Fairleigh Dickinson University, Fall '18), is a Liberal Arts Major.
Arianna spent a semester of her senior year at the Chengdu American Center for Study Abroad in Fall 2018. She loved her abroad experience so much that she decided to blog about it.
In her wonderfully written blog post entitled "May We Meet Again", she describes her life-changing abroad experience from living and studying in a new culture, learning a new language and the new life-long friends she made along the way.
Although her time in Chengdu has come to end, as a recently graduated senior from Fairleigh Dickinson University she has a bright future and career ahead of her and Chengdu will forever have a special place in her heart. Until we meet again!
G-MEO Alumni Newsletter
Twice per year G-MEO will publish an alumni newsletter with Alumni stories, updates, and more.  Click the link below to read our first ever issue!  
G-MEO Alumni Newsletter Issue No.1
Check back in April for the 2019 issue!
Campus Ambassador Program
Calling all G-MEO program alumni!  G-MEO is actively seeking program alumni to serve as our official Campus Ambassadors on your home campus.  As a campus ambassador, you'll be the "face" and "voice" of G-MEO on your college campus and will act as G-MEO's official student representative.  You'll play key roles helping to promote G-MEO's various programs and assisting prospective students in their decision to study abroad. The Campus Ambassador position is a great way to stay connected to G-MEO and build your resume.  
For position description, click here 
If interested, please contact Tiffany Golding: tiffany.golding@g-meo.com
.