Anshun Bridge
If you haven't made your travel hit list for China yet, Anshun Bridge is a fantastic spot that you don't want to miss. Today, G-MEO would like to introduce the spectacular bridge in Chengdu - Anshun Bridge.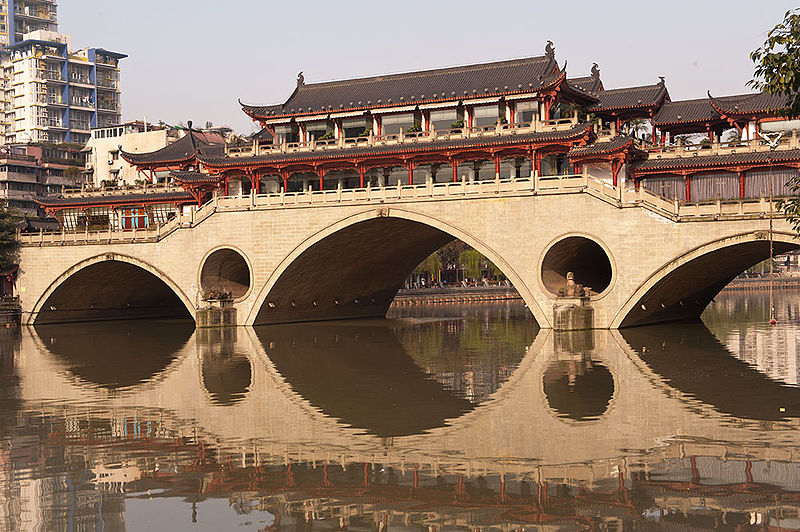 Anshun Bridge (安顺桥) is a bridge in the provincial capital of Chengdu in Sichuan, China. Just like its name, the bridge looks peaceful and propitious.
Anshun Bridge has a long history; the original building can be traced back to the Yuan Dynasty. That was the time when Marco Polo traveled to China and was incredibly impressed by Anshun Langqiao. However, the old bridge was been ravaged by floods and was reconstructed in 2003. The new bridge we see today is 81 meters long and 6 meters wide and it's even more spectacular. The handrail is carved with beautiful patterns like plums, orchids, bamboo and chrysanthemums, representing Chinese folk culture. Visitors are often impressed and astonished by its gold-colored lights and its wonderful reflection on the water.
The bridge is especially beautiful to see when it is lit up at night. The bridge is located in the zone of Chengdu where the majority of night life takes place. You can find "Bar Street" across the street; on the other side, there are some very upmarket, tasteful restaurants. So, why not enjoy some delicious Chinese cuisine and drink while you explore the beauty of Anshun Bridge.
Astonished by the pictures of Anshun Bridge? Before you go, check out some useful travel tips here in this article.
Things you can't miss out on:
1. Check out the fancy restaurant on the bridge! It's a famous fine dining restaurant in the city. Because it's for fine dining, it's pricier. However, the service and food are great with English-speaking staff.
2. Discover the leisure and entertainment area around the bridge! It is an appreciation of Chengdu's history, culture, commerce, catering, and transportation.
3. Hike around and take photos of Chengdu at night. When the night comes, shimmering lights appear around the bridge and it is a picture-worthy moment!
4. Relax at the bars along the river! There are tons of bars, restaurants, teahouses, and places for entertainment around the bridge. The bars there tend to be small, intimate spaces with live music along the river.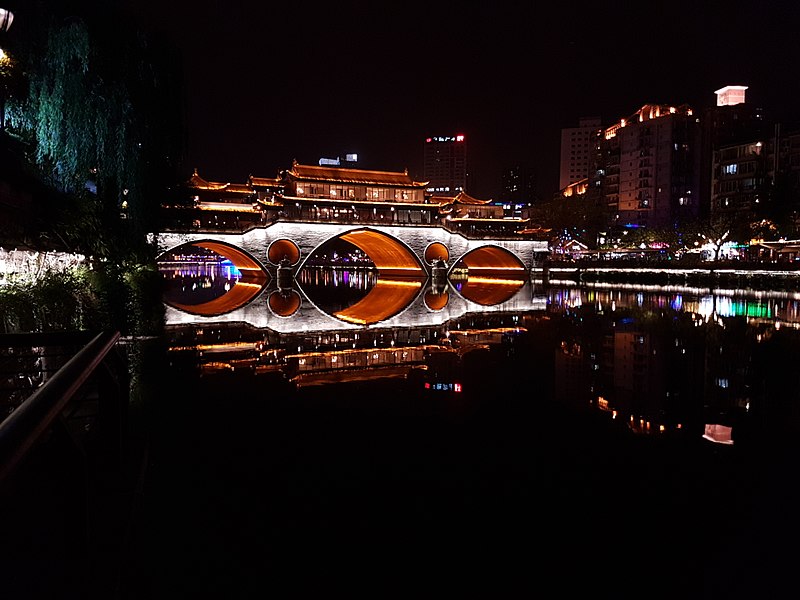 Quick Tips:
1. We recommend dishes like pigeon soup, hot pot fish, minced pork, dried tempura, green beans, and duck sandwiches!
2. It's better to visit at night when the bridge lights are on.
Opening Hours: All day, 24 hours
Ticket price: Free
Location: No.66 Binjiang East Road, Jinjiang District, Chengdu, China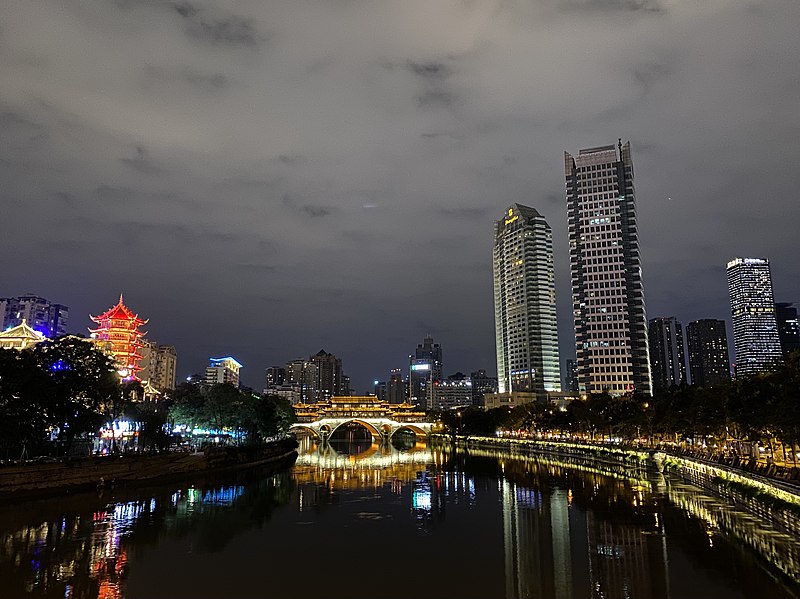 ---
Videos: Anshun Bridge
4K Night Walking Tour in Chengdu, China - Anshun Lounge Bridge 安順廊橋



Video from Walk China
LEARN MORE ABOUT G-MEO
VIRTUAL LIBRARY
CULTURE
FOOD
INTERNSHIP
STUDY ABROAD
CHINESE
Contact G-MEO
Email: info@g-meo.com
WhatsApp: G-MEO Study Abroad Q&A
Welcome to contact us to find your best solution
Email us: info@g-meo.com